The Hale Akua
The Hale Akua Eco-Retreat Center is a stunning venue located on top of the cliffs overlooking the ocean in the rainforest in Haiku. The first thing you will notice is the pristine air quality resulting from ocean trade winds and negative ions from the 150-foot Hanehoi Waterfall just below the property. The views are breathtaking, and the night sky is totally unobstructed from light pollution. The lush tropical rainforest climate provides a perfect location for their organic farm, where they grow many different types of fruits and vegetables. Enjoy the hot tubs, sauna, 60ft salt water swimming pool, meandering garden paths, and the natural healing environment which the Hale Akua provides.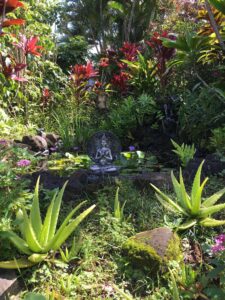 Hale Akua ("Home of the Divine" in the native Hawaiian language) is an exclusive, intimate, and secluded jungle garden retreat offering wonderful retreats in a spectacular natural setting.
Deep thought and consideration was given to the placement and location of every structure at Hale Akua, so as to remain "at-one" with the 'Aina (or Spirit in Hawaiian) of the land, the jungle, and the ocean.
Maui Trainings has hosted four retreats at the Hale Akua over the last year, and we have been absolutely blown away by the richness and quality of the environment. We are so excited to share this hidden gem with you.
Check out the many five-star reviews across Trip Advisor, Yelp and Google. To get an idea of the rooms, you can view their accommodation gallery here. Check out some more photos of the center at the bottom of this page.
Our food will be prepared in house by the very lovely Chef Cindi Nand and her team. She has worked with us at our previous retreats and has blown us away. Every single meal seems to get better, it's almost unbelievable. She truly cooks with love. You will never go hungry with Chef Cindi!
A note from the Hale Akua:
Our mission statement is to provide a beautiful environment for healing, rejuvenation, personal growth and inner peace. We invite you to connect more deeply with the earth and in so doing to deepen your connection with nature and with the very ground of your own being. It is so easy to do this in a gorgeous environment with spectacular views, very clean ion-filled ocean air and lush, organic fields and gardens.
Through programs created, sponsored and hosted by the retreat center, spiritual seekers are presented the opportunity for your body's healthy food nourishment, personal healing and the atmosphere to strengthen and motivate one's growth towards spiritual wholeness.
We went the extra mile when designing and building Hale Akua Garden Farm & Eco-Retreat center to encompass essential components of natural health, a chemical-free environment, mindful living and eco-sustainable living; inclusive of farming practices, waste management, renewable energy and construction.
We focus on the basic relationships with our body, land, life forms and natural environment in order to detoxify our bodies. This helps to enable all guest and visitors to Hale Akua to operate at their highest capacity during their time here. Our aim is to heighten your experience of rejuvenation, personal development, inner and outer health, and your overall enrichment.
Also enjoy the beautiful private waterfall views of Hanehoi Falls, a 150ft waterfall dropping right into the ocean!
Cleaning & Sanitation Policy:
Hale Akua promises a new level of cleanliness with deep cleans in all areas and rooms including the disinfectant of all room keys and door handles routinely.  We will be ozonating all indoor communal areas before and after each group. Hand sanitizer will also be available for guest usage in many areas at the retreat centre. We look forward to providing guests with a beautiful, and utmost safe place, for guests to enjoy beauty both indoors and outdoors, alongside continuing to be a healing and enriching environment.